Just got back home (left the day after Christmas) after a long visit where my husband and I helped one of our daughters and her husband move into their new home. Along with the move we helped with a few DIY projects and now all they have left to do is their final unpacking. The house looks great and we beat the winter storm that will be arriving, so that really made the move a whole lot easier without snow in the way!
During our stay we got to celebrate New Year's Eve at my other daughter's house with all of us in our pajamas and party hats just like I have when I am hosting my New Year's Eve Pajama Party at home. We had lots of our favorite appies and this year I tried out a new recipe for
bacon wrapped jalapeno poppers
. Lots of work, but very well worth it if you are a popper fan.
One of my girlfriends had recently made these poppers after she tried them at a martini party and loved them. Right before Christmas I was at her house for dinner and she served me a few and I was hooked! I'm sure many of you have made poppers from an actual recipe before, but it was the first time for me to actually make them from scratch. They were great and I was so surprised how much I liked the bacon addition and also how the pepper was mellowed after baking. Most of the jalapeno poppers I have eaten have come from the freezer section at the grocery store...You know the breaded kind, which I do like, but now I really love these new ones I made.
Making the poppers are simple and also easy to assemble. All the work is in the cleaning of the peppers. Please wear gloves to protect your hands from the seeds and ribbing of the peppers since they leave oils on your skin which will burn if you have an open cut or happen to rub your eye. These oils stay on your skin even after a thorough washing too. Be safe, not sorry!
I was so busy having fun at the party I completely forgot to take a picture of my poppers. How dumb was that when I even got a new camera for Christmas!!! So I am including a picture from
blogchef.net
that looks the closest to what mine came out like and also the recipe that is similar to what I did, except I cooked mine in the oven at 400 degrees and their recipe grilled them.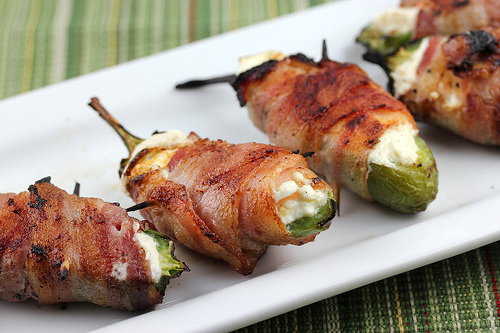 Photo courtesy of blogchef.net
So before you try making poppers from scratch, I suggest you take a look at other recipes to see what would work for you. Of course there are many other ways to make these as I found out myself after looking for pictures to post. Next time I will try grilling them for another layer of flavor.
SUGGESTED RECIPE:
http://blogchef.net/bacon-wrapped-jalapenos-recipe/